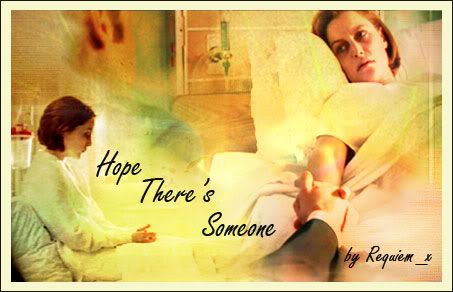 Wonderful banner by
octoberaine
! Thank you!
You Tube Linkage:
Right here!
HQ Download: You know you want to...Music:
'Hope There's Someone' by Antony and The Johnsons
Fandom:
The X Files
About:
Scully struggles with the trauma of facing a terminal illness alone. Whilst Mulder reaches out to help.
Blurb:
This one has been finished for over two months now and it's finally live on the net, yay! I've always wanted to make a video to this song as the lyrics fit so perfectly with the cancer arc storyline and the song was just downright wonderful. This summer I finally had some time and I'm relatively pleased with how it turned out. I'm really limited these days by my computer but I'm glad to finally share it with you all! I hope you'll find within it a little bit of the emotion I was trying to communicate! I know cancer arc videos have been done to the death and I generally avoid them, but this song would not leave me be. Enjoy.
Feedback is love!
Here's the embed for all those that require it.
Current Mood:

productive
Current Music: Speechless by Michael Jackson